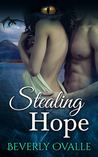 Stealing Hope A Dragon's Fated Heart
by
Beverly Ovalle
My rating:
5 of 5 stars
Hope is a shape shifting Dragon, who learns she has come from a family of them. Because the Apocalypse has taken place, the few surviving humans, and Shape Shifting Dragons, the World has returned back to the basics whereas everyone farms, barters and such to make ends meet.
Ari, has felt drawn to Hope, knowing he is meant to be her mate. He, along with her brothers, Crag, Rog and Hark that she meets in different time frames, help to teach Hope about herself and educate her.
Ari must also meet and gain the approval of Hopes father, and the rest of the family. Will he?
This book is very humorous and has a lot of very sensuous love scenes in it. As you read along, you can very well imagine and see a very fun and intriguing action filled book. This book will pull you in, to the point of wanting to follow along in Hope's life further to see what could and would happen to her.
Everything you read and feel, you can see, and it is so interesting that you just feel like you are right there with them. I was to the point that I couldn't put the book down, and I wanted to read more. Hope is a very interesting character!
You will definitively fall in love with this book! I can promise that, therefore I assure you this is a five star read! So if you haven't already, I would suggest buying your copy today, and enjoying falling in love with Hope the shape shifting dragon and her love Ari as I did. And her family, is pretty epic too. Beverly Ovalle is an excellent story teller for any age group!
View all my reviews